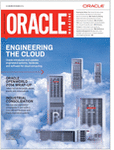 Special offer for AjaxImpact.com Visitors!!
Subscribe to Oracle Magazine for Free!









Experts Speak at May's Ajax Experience

03/12/2006, By Vance McCarthy



Ajax is re-charging server side Java developers' interest in the client. On May 10-12, in San Francisco, more than 2 dozen of the top names in Ajax will share insights, techniques, and use cases at The Ajax Experience.

Among The Ajax Experience speakers are: Jesse James Garrett (Father of Ajax), Michael Mahemoff (Creator of Ajax Patterns), Ron Smith, (IBM Fellow), and Don Almaer, (Ajaxian.com co-founder) IDN spoke with Almaer about the event, and about why Ajax has developers – and end users – so excited. The Ajax Experience comes as enterprise interest in Ajax is hitting a tipping point, Almaer told IDN.