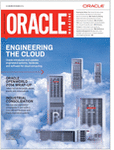 Special offer for AjaxImpact.com Visitors!!
Subscribe to Oracle Magazine for Free!









Laszlo AJAX Platform To Support Flash, DHTML, .Net

03/10/2006, By: AJAX News Desk



Laszlo Systems has announced the planned extension of its advanced AJAX application development platform, OpenLaszlo, to support the delivery of applications in browsers with or without a Flash plug-in at the O'Reilly Emerging Technology Conference.

By the end of this year, developers using OpenLaszlo will have the option to deploy their applications using either Flash or Dynamic HTML (DHTML), an open-standard technology built into most Web browsers.