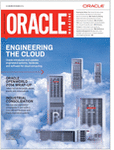 Special offer for AjaxImpact.com Visitors!!
Subscribe to Oracle Magazine for Free!









Yahoo Unveils its AJAX Strengths

03/12/2006, By: AJAX News Desk



Ash Patel, chief product officer for Yahoo Inc. has announced his company is releasing four new Web services APIs, with a distinct AJAX flavor. The announcement was made at the O'Reilly Emerging Technology Conference in San Diego. Yahoo! Simultaneously released a press release with detailed information of the APIs.

These APIs are intended to enable developers to use and build upon technology from Yahoo Photos, Calendar, MyWeb and Shopping, creating a participatory environment that increases the relevance of Yahoo products and services for individual users and the greater community.