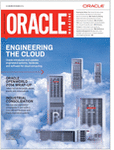 Special offer for AjaxImpact.com Visitors!!
Subscribe to Oracle Magazine for Free!









TedJob.com Uses AJAX to Build Better College Carrer Services

03/23/2006, By ajax.sys-con.com



TedJob.com is a Website that meets the unique recruitment needs of colleges, universities and other academic institutions. It provides career services to employers, faculty members and job seekers.

One feature - "Build my site" - allows users to build a dynamic career section and post it to their organizations' site within minutes. This feature is mainly for smaller academic organizations who have limited financial resources or no access to a full-time web developer.

"We use AJAX, an innovative technology, to accomplish this," Gu added. "There are only a few Internet giants such as Google and Yahoo that are able to build sites using AJAX; we are the only career site who provides this service."