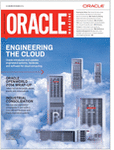 Special offer for AjaxImpact.com Visitors!!
Subscribe to Oracle Magazine for Free!









Innoopract Introduces First Eclipse-Based AJAX Platform

03/23/2006, By marketwire.com



Today Innoopract, a founding member of the Eclipse Foundation and a leading provider of products and services for Eclipse introduced the Eclipse proposed project "Rich Ajax Platform"(RAP). RAP aims to provide an Eclipse-based development environment with the capabilities to create so-called "Rich Internet Applications." RAP enables programmers to develop desktop applications and web applications following the same programming model, resulting in negligible extra work.

RAP offers an architecture and usage similar to the Rich Client Platform (RCP) and includes a library of components built in the JavaTM programming language and AJAX. Developers can use these components to develop dynamic user interfaces in a fraction of the time compared to traditional methods.