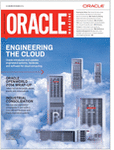 Special offer for AjaxImpact.com Visitors!!
Subscribe to Oracle Magazine for Free!









Gates admits Internet Explorer error

03/22/2006, By Gavin Clarke



Gates used his company's AJAX-friendly MIX06 conference in Las Vegas, Nevada, to issue his third self-confessed mea culpa, this time admitting Microsoft made a mistake on Internet Explorer.

Specifically, Gates confessed to an error over his company's sub-par development efforts around IE in recent years, while pledging to bolster future engineering work. "In a sense we're doing a mea culpa, saying we waited too long for a browser release," he said.