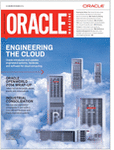 Special offer for AjaxImpact.com Visitors!!
Subscribe to Oracle Magazine for Free!









TIBCO Brings Mature AJAX Technology to Everyone Now

03/20/2006, By SYS-CON



TIBCO Software today announced the availability of TIBCO General Interface version 3.1 Professional Edition, which includes enhanced features and a bold new licensing and pricing model. The latest version of TIBCO's award-winning AJAX development framework and tooling brings the industry's most mature AJAX technology to the far reaches of the developer community, offering a head start for building Rich Internet Applications based upon five years of proven enterprise deployments.



The new release also features faster drag-and-drop visual authoring tools for standard XML & XSD, SOAP and WSDL communications, as well as HTTP/S GET and POST operations, dramatically reducing scripting time. In addition, users will have access to the TIBCO General Interface Developer Community, an existing online resource currently used by thousands of developers. And with its add-in architecture, TIBCO General Interface version 3.1 also enables additional 3rd party packages to easily plug into its development framework.