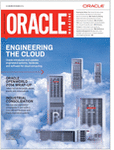 Special offer for AjaxImpact.com Visitors!!
Subscribe to Oracle Magazine for Free!









Microsoft Web 2.0 Developers Go Live with 'Atlas'

03/20/2006, By Darryl K. Taft



Microsoft is highlighting its upcoming tool for AJAX-style development, code-named Atlas, at its Mix conference in Las Vegas this week with the announcement of a new Community Technology Preview and Go-Live license for the technology. Some early Atlas users, meanwhile, have already shared their experiences with the tool with eWEEK.

Arthur Wait, a Menlo Park, Calif.-based independent Web design and application development consultant, said he has started to use Atlas on a Web site he developed for The Planning Shop, a book publisher in Palo Alto, Calif.

The site was originally developed for internal use to allow authors and the publishing company to both track the performance of their own books on Amazon.com and research the historical performance of competitive books and categories of books from other publishers, Wait said.